Miter saw is one of the fundamental power tools in woodworking projects but it has less mobility. It would typically be full of hassle or even impossible to move the cutting station from your workshop. A smart solution comes from the portable miter saw stand with wheels. It's a foldable, moveable miter saw stand that would work as your portable miter saw cutting station.
This stand enables you to move a miter saw from one site to another easily, thanks to the wheels. We've reviewed some best portable miter saw stands with wheels available in the market and arranged a useful buying guide for you below.
Top 5 Portable Miter Saw Stand With Wheels
1. POWERTEC MT4000 Deliver Wheels Outlet
POWERTEC MT4000 is a fully portable miter saw stand with wheels. It comes with a solid foldable design and a useful power outlet. The universal stand not only supports miter saws but also planers, chop saws, bandsaws, and other benchtop power tools. The two rubber wheel provides you with more portability aside from its easy setup and collapsing construction.
Design
POWERTEC MT4000 comes with a universal design with a fully adjustable mounting mechanism for benchtop tools.  The compact design allows you to set the whole thing within five minutes. It adopts a quick lock and releases on the foldable four legs and the mounting bracket. The manufacturer focuses on total portability.
Compatibility
With an adjustable top bracket, POWERTEC MT4000 isn't only compatible with Miter Saw but also with other workstation applications.  POWERTEC MT4000 can load most 10-inch and 12-inch miter saws from major brands like Craftsman, Ryobi, Kobalt, etc.  You can do some adjustments on this stand and you can use it for a trimmer, router, bandsaw, or other benchtop tools interchangeably. Still, you better check the measurements whether or not they would fit the power tools you want to apply.
Features and Build Quality
POWERTEC MT4000 comes with a power outlet 125 AC 15 Amps that eliminates hassles when powering up your power tools. The mobility is easier with two eight-inch wheels. POWERTEC MT4000 features heavy-duty construction that holds up to 330 lbs of top loads.  Whether it's for home improvement projects or extensive lumber works, POWERTEC MT4000 can be a reliable solution for your cutting station.
Verdict
If you're looking for a universal portable stand, POWERTEC MT4000 is a solid solution. It has sturdy construction and wider compatibility for miter saws and other benchtop power tools. The foldable design and quick adjustment system make POWERTEC MT4000  more compact than comparable products.
2. PROTOCOL Equipment Contractor Miter Saw Workstation
PROTOCOL comes with another heavy-duty miter saw workstation with wheels. It comes with strong steel construction that supports up to 500 lbs. The universal mounting provides you with wider compatibility for the miter saw and other benchtop applications.  It's a portable stand with foldable legs and two rubber wheels to support mobility.
Design
PROTOCOL portable miter saw workstation comes with four foldable legs and a pair of wheels. It has adjustable top width with extendable infeed and outfeed material supports. The stand's design is for a universal workstation even though you'd find it perfectly fits for miter saw or sliding miter saw applications.
Compatibility
PROTOCOL workstation comes with a universal mount that can cater to most brands and types of miter saws. The mounting bracket is adjustable in width dimension so it would likely load 10-inch and 12-inch miter saws with no problems. You can also add a compatible adapter for other power tools like sliding miter saws, routers, trimmers, or bandsaws.  As a working station, you can use the stand to support different power tools interchangeably. They also have several types of tool mount accessories that even extend the compatibility.
Construction
PROTOCOL  miter saw stand has a heavy-duty construction that can support up to 500 lbs. At this point, you can cut multiple layers of hardwood boards at once with no problem and get your jobs done quickly.  The leg and top supports are made from a professional-grade steel material that ensures reliable support regardless of what your miter saw is and what you're cutting.  It has double material support on both sides that can extend up to 124 inches.
Verdict
PROTOCOL wheeled portable miter saw stand is a great product to invest in for woodworking projects that require you to set a cutting workstation outside your workshop.  Despite its portability, this miter saw stand offers heavy-duty performance and wider compatibility for different miter saws and other countertop power tools.
3. Metabo HPT portable miter saw stand with wheels
Metabo HPT offers a portable miter saw stand with universal compatibility and heavy-duty construction.  The technical specification enabled the stand to work with up to 12-inch sliding compound miter saw so it would fit smaller machines. Adjustable mechanism with no extended legs to set make this miter saw stand the most compact option in our list.
Design
Instead of using additional four legs, the Metabo HPT miter saw makes use of the carrier and the two wheels for the legs. This design allows users to set up the workstation very quickly and still have some degree of height adjustments. For the countertop design, Metabo HPT uses a quick-release mounting bracket that enables you to install and uninstall the miter saw efficiently.
Compatibility
Despite it fits all Metabo HPT sliding and non-sliding miter saws, the adjustable mounting allows more compatibility with other standard miter saw products. However, you still have to ensure the measurements if you have non-Hitachi or non-Metabo miter saws.  You won't have any compatibility issues if you have a Metabo or Hitachi miter saw.
Constructions and features
METABO HPT miter saw working station comes with heavy-duty tubular steel construction with a maximum load of up to 300 lbs.  The construction also includes material support extensions so you can support heavy yet lengthy materials.  Despite its rigid construction, you can set up and collapse the workstation very efficiently while they can stand still even when folded.
METABO HPT UU240R comes as a functional miter saw stand. You can enjoy some adjustments to the mounting brackets and material supports. However, it doesn't have a power outlet like POWERTEC MT4004 so you need to work on it by yourself.
Verdict
METABO HPT UU240R is a compact solution for owners of METABO HPT or  HITACHI miter saws while it might be compatible with miter saws from major brands. It offers an even more instant setup than other stands on this list.  If you're looking for an on-the-go portable wheeled miter saw stand, METABO HPT UU240R  could be your answer.
4. POWERTEC MT4004 portable miter saw stand with wheels
MT4004 is another miter saw stand from POWERTEC but it comes with aluminium construction instead of steel. As you might have expected, this miter saw stand offers lightweight but it can support 330 lb, more than MT4000.  Also coming with 8-inch rubber-grip wheels, POWERTEC MT4004 offers more portability and mobility.
Design
The aluminium miter sand has a flat-collapsing design to support quick setup and breakdown. It allows you to move from one project site to another project site with no hassle. You can set a miter workstation anywhere in your workshop or the worksite. The four legs come with spring mechanisms for quick setup and deliver reliable benchtop stability. The manufacturer has engineered the MT4004's designed for easy mobility and streamlined productivity.
Constructions and features
POWERTEC MT4004 comes with rugged aluminium construction. While it's lightweight and highly portable, the construction delivers reliable support and stability for medium-duty workstations.  The bracket is strongly attached to an engineered extruded aluminium work base that strongly supports miter saw and workpieces.  Together, they can load up to 330 lbs on the countertop.
While POWERTEC MT4004 offers more portability and mobility, it doesn't have what MT4000 does: the power outlet. Due to the streamlined design,  this miter saw stand comes with functional features.
Compatibility
POWERTEC MT4004 is compatible with most miter saws of major brands. You can use MT4004 to support a 10-inch or 12-inch non-sliding and sliding miter saw. With compatible adapters and adjustments, you can also use MT4004 to support other benchtop tools. POWERTEC itself has a wide range of ORM replacement parts that are signs of its compatibility with most power tools.
Verdict
If you're looking for a miter saw stand that's compact and lightweight, there's no better option than POWERTEC MT4004. It's ideal for woodworkers with high mobility and caters to medium-duty woodworking projects.
5. DEWALT DW7440RS portable miter saw stand with wheels
DEWALT DW7440RS is a compatible rolling stand for DEWALT DE745 10-Inch table saw that's sold separately as a working station. However, some customers also found that this table saw stand can also support DEWALT and other compatible miter saws with some creativity and drills. Still, DEWALT  DW7440RS is a portable saw stand that deserves to be on this list.
Design
DEWALT DW7440RS is designed to support the portability of the table saw or other compatible benchtop power tools. With the quick, tool-free adjustment, the stand allows you to set the workstation instantly. It has two sturdy rubber wheels and a pair of rollers. The stand has a four-leg design that's foldable and collapses under the stand base so you can save storage.
Constructions
DEWALT DW7440RS  features heavy-duty yet lightweight construction with a quick-release mechanism.  The four-legged workstation can deliver stable support for the benchtop tools. Since it's primarily designed for table saw, you can find the wider bracket in the base.
Compatibility
As previously mentioned, DEWALT DW7440RS is for DEWALT DE745. If you want to use this stand for the miter saw, you have to purchase compatible adapters and make some adjustments on the base and bracket.  You'd have to place the miter saw across instead of in line with the base because it has two rollers that block one side of the side. It's not possible to get materials through the inline position unless you take off the rollers. It has no material support like other miter saw stands as it's basically for table saw.
Verdict
If you have a DEWALT table saw and want to make it portable, DW7440RS is a compatible solution for you. However, you must be considerate if you want to use it for a miter saw stand. Check first whether or not the bracket is adjustable for the adapter you want to use to mount the miter saw. If you're not sure about the result, you better consider another miter saw stand.
RELATED POST:  Dewalt Dw713 Review
What to looks at before buying a Portable Miter Saw Stand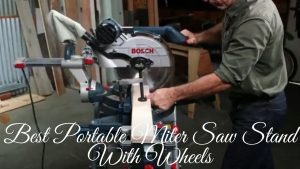 Since there is a variety of miter saw stands available in the market, you need to be considerate when choosing one. As you've seen above, we've highlighted fundamental factors to consider on those miter saw products.  The same rules apply when you shop around miter saw stands both online and offline. Take your time to consider the factors below before purchasing a miter stand that would be your mobile working station.
Compatibility
First of all, you must find a stand that's compatible with your miter saw. Most miter saw stands usually have adjustable mounting brackets that allow you to load most non-sliding and sliding miter saws. However, some stand products are specifically manufactured to support particular miter saw types and brands.  On the other hand, there are also universal stands that not only support a range of miter saws but also other benchtop tools.
Overall Design
The overall design must support mobility, portability, and easy storage. Many miter saw stands come with four foldable legs that can collapse under the stand base. Some products also have a more streamlined design where the wheels and the carrier would be the legs when set up.
Stand Construction
Construction refers to the material and the structure of the miter workstation.  These include maximum loads, durability, material supports, feeds, etc.  Depending on your woodworking requirements and preferences, you need to choose a suitable miter saw stand. If you're dealing with heavier materials and robust works throughout time,  you may consider heavy-duty stands that can load more than 400 lbs.
Consider workpieces or materials you'd cut on the miter saws and check whether or not the stand has enough feeding support.
Features and inclusions
Last but not least, you can also consider the features of the miter saw stand you want to purchase. Check their inclusions like mounting brackets, spare parts, or guarantees. Some miter saw stands also have power outlets or additional material feeders. Check whether they have features that suit your needs or enhance your workstation further.
FAQ
Is a miter saw stand necessary?
Miter saws can work without a stand. However, a miter saw stand allows you to make a cutting station in your shop or project site and provide more stability, accuracy, and productivity. Attaching your miter saw on a stand enables you to keep your body at the best possible position when operating the power tools that also improves safety use. A portable miter saw stand even allows you to move the saw from one project site to another easily.
Are miter saw stands universal?
Miter saw stands available in the market are usually universal. It means that you can use it to attach different miter saws and brands. They have adjustable mounting brackets so you can attach any miter saw in its range. However, there are also stands specifically designed for particular miter saws and brands or sold separately as compatible parts. Even those universal stands can also mount other benchtop power tools like chop saws or metal band saws.
Can I store my miter saw on the stand?
For workshop uses, bigger miter saws are usually mounted into a fixed workstation or stand that also works as its storage. At this point, you'd need to keep this area clean and dry to prevent corrosion. The use of cover is also advisable if you use the miter saw less regularly. If you use a portable stand, you can keep the miter saw mounted or detach it from the bracket and store them separately.
How do you put a stand on a miter saw?
When you put a stand on a miter saw, you'd mount the power tool with brackets attached to the base of the stand. In portable miter saw stands, these brackets are adjustable and even come with a quick-release lock mechanism. Anyway, you need to keep the best hold of your miter saw in the stand. Manage the proper height of material supports and feeders that come along with the stand.
Which is the best Mitre saw stand?
These are some best portable miter saw stands available in the market :
POWERTEC MT4000
PROTOCOL Miter Saw Workstation
METABO HPT UU240R
DEWALT DW7440RS
POWERTEC MT4004
Can you use a table saw stand for a miter saw?
There are universal power tool stands that enable you to mount different types of tools interchangeably. However, you'd be super cautious and considerate when mounting your miter saw on this stand. Always use compatible or recommended mounting brackets and accessories to ensure strong attachment. Avoid drilling or DIY modifying the stand base except it's done by professionals.
Good Bye Words
A wheeled portable miter saw stand is a useful tool to move around and set your miter saw workstation more easily. Among reviewed products,  the best portable miter saw stand with wheels for heavy-duty operations include METABO HPT UU240R and PROTOCOL Contractor Miter Saw Workstation. However, POWERTEC MT4000's power outlet allows you to eliminate hassle when connecting the miter saw to the power saw. Anyway, you need to purchase a stand that's compatible with your miter saw and suit your woodworking requirements
Hi their! I am working with daily instruments since 2018. I complete my M.SC in Mechanical Engineering. I accomplished with commencement in 2009 from the College of Colorado Denver. Now I am working for a widely known tools firm. Sometimes i write informative article on my blog weeklytools.com & dailytools.com