The bandsaw has become a mandatory power cutting tool in most woodworking and lumber shops. It has the main job of cutting wood logs and posts efficiently.  Bandsaws come into the market in different sizes and technical specifications to cater to different requirements for DIY, home improvement, and industrial works.
Let's learn more about bandsaws before you purchase one. These include the functions, uses, features, types, and so forth. We've also reviewed the best bandsaw under 200 and 300 in the market and highlighted the buying guide as well as other information below. Moreover, we review the best Band Saw Under 500 and 1000, which you can check. 
What is Bandsaw?
A bandsaw is an electric power cutting tool with a long band of continuous toothed metal blades stretched between two wheels to cut workpieces that can be woods, metals, plastics, and other materials.  There are different types of bandsaw blades referring to the size, number, and angle of teeth.  An electric or induction motor powers the wheel that makes the blade move to one, down direction continuously.
What Are the Types of Blades Used in Band Saw?
Bandsaws come with different types of blades that you can use interchangeably depending on the materials and cuts you want to achieve. These are some common types of bandsaw blades:
Regular tooth: For cutting metals and woods
Hook tooth: For cutting hardwoods and non-ferrous metal
Wavy:  For cutting thin sections of sheet stock, tubing, pipe, etc
Variable tooth: For easier wood cutting and low vibration in woodworking
Skip tooth: For cutting long workpieces with finer results.
Diamond blade: versatile blade for cutting hard materials like tiles, marbles, ceramic, porcelain, concrete, brick, metals, etc.
Uses of Band saw
Bandsaws are typically used in woodworking and lumber shops or industrial factories. Different band saws are used to cut different materials.
Ripping Lumber: The main function of a bandsaw is ripping the wooden logs.
General Woodworking tasks: It does a great  job in ripping all wooden materials within its throat
Cutting Metal materials: Specific blades are used to cut metallic materials like aluminum or steel
Cutting Meat: It enables you to cut through bones and frozen meats easily.
Cutting Veneers: You can cut veneers from wood logs with adjustable thickness
Cutting curves on workpieces: Bandsaw does what circular saws and table saws can't, which is cutting curves on thicker materials.
1. SKIL 3386-01

Band Saw
Top Features
6TPI Bandsaw Blade: A versatile blade that enables more accurate straight cuts on different woods
Built-in LED light: Ensure a clear view of the workspace so can more easily follow the cutting line.
Solid Rip Fence: You can expect super accurate straight cuts on any workpiece
Rack and pinion table adjustment: Reduce the need for cutting jigs for angled cuts as you can quickly adjust the correct position.
120V One-speed Versatile motor: It has a powerful motor to cut different materials including woods, metals, composites, etc.
SKIL 3386-01 is a 9-inch bandsaw under $300 that comes with some degree of versatility. The power saw not only enables you to rip lumber but also to cut irregular shapes. Coming with a 6-TPI blade, SKIL 3386-01  enables you to cut diverse wood materials.
Near the blade guide, you'd find the adjustable LED work light and the dust port below the working table that play two crucial things for your woodworking projects. First, it provides you with a bright and clear view of the working area so you won't miss any cutting guidelines. Second, the dust collector keeps the working surface clean throughout the operation.
SKIL 3386-01 offers easy adjustments for straight cuts, miter cuts, and angled cuts. It comes with an adjustable rack and pinion table where you cut and rip bevels. The miter gauge can be straightforwardly installed and adjusted to support more accurate miter cuts. The straight rip cuts are guaranteed with the solid fence with a quick-release lock.
Just like other SKIL products, SKIL 3386-01 comes with a 3-year limited benchtop warranty that covers workmanship defects. However, you'd need to register your table saw within 30 days from purchase to activate the warranty.
Pros
Versatile 6 TPI blade and motor

Superb and useful LED work light

Easy adjustments for rip cuts, bevels, and miter cuts

Universal dust collector

3-years limited warranty
Cons
Still needs more adjustments and calibration

Hobby-grade motor power

Blade guides seem to be difficult to adjust.
2. DEWALT DCS371B

Portable Band Saw
Top Features
Portable Design: The cordless band saw is fully portable and fit your hand operation perfectly
Universal Cutting Capacity: You can cut up to 2-1/2 inch hollow or solid metal materials
Built-in LED work light: Help you to get a clear view of the work surface and cut workpieces more precisely
Engineered handle position: with a centered design, you can promptly cut through materials more comfortably and accurately.  
Quick Blade Adjustment System: With a dual-bearing blade guide, tool-free blade change system, and blade tracking adjustment feature, you can achieve the most accurate settings.
Ergonomic design: It has an integrated hang hook for safe and easy hanging while the engineered soft grip provides you with more flexibility and comfort when cutting materials.
DEWALT DCS371B is a cordless 20V portable hand bandsaw that comes for mobile works. The bandsaw cuts everything within its cutting capacity. You can operate this bandsaw with a 20-V lithium battery which unfortunately is not included in your purchase.
DEWALT DCS371B comes with an adorable engineered design to support hassle-free operation. First, it has a centered hook and an ergonomic handle for steady cutting without fatigue. Second, the adjustments are simply over the places that allow you to adjust blade position after replacements. Third, it has enhanced durability with its blade support system that hosts dual bearing guides.
If you're looking for a band saw where you need to cut hollow or other metallic-based materials, you better consider DEWALT DCS371B. With cordless construction, you will no longer deal with twisted or coiled cords. It has everything you need to work on the project site more comfortably.
The ultimate LED work light feature enables you to cut through materials even though the project site is dark. Just like other premium power tools, the work light has become a very useful feature for no-hassle operation.  You won't miss any cutting lines when on the project site that allows you to get the job done efficiently.
Pros
Great design to eliminate fatigue for extensive uses

Seamlessly helpful LED work light

A lot of blade adjustments for more precise calibration

The tool-free blade replacement system

Ergonomic overall shape
Cons
Blade unavailability and universal incompatibility

Doesn't come with a battery

Hard to get spare parts
3. Bosch BSH180 compact Band saw
Top Features
Lightweight and more compact: It's way lighter than any comparable hand bandsaws
Built-in LED work light: Working space illumination helps you follow the cutting line even in a dark place.
Universal cutting capacity: It has a 2-1/2 cutting capacity but is not reduced in any way
Dual battery pack: You can use either the slim or the flat battery pack that refers to different amperage.
Rugged aluminum base: Sturdier than the plastic base and provides more stability when cut through different materials.  
Ergonomic and compact design: The bandsaw allows you to perform overhead cutting and work in tight spaces unreachable with a conventional bandsaw or other power saws.
Bosch BSH180B  is an 18V cordless hand bandsaw with a compact design and lightweight. It's way lighter than those deep-cut saws for up to 60 percent so it reduced fatigue for prompt operation. Like DEWALT's product above, Bosch BSH180B's 18V lithium battery is sold separately.
The portable bandsaw has an optimum cutting capacity that enables you to perform overhead and tight cutting on hollows, shafts, pipes, or other metallic materials in the project site. This way, it can cover most of the metal cutting jobs without dismantling the whole construction.
Bosch BSH180B has an integrated LED work light that helps you to follow the cutting line even in the darker project site. It adopts sided grip for a two-hand operation just like operating a hand grinder or impact drill. This allows you to have easy operation even for extensive cutting jobs in the project site.
As designed to cover job site works, it has a heavy-duty construction that can withstand even harsh conditions. The portable design is supported with an engineered easy blade change system so you can promptly use the bandsaw for extensive jobs on the working site. The aluminum base also provides a firmer stand when used for heavy-duty works.
Pros
Fully portable
Super lightweight
Compact and ergonomic design
Reliable performance for Jobsite works
Easy blade change
Universal cutting capacity
Great to invest with Bosch cordless power tool ecosystem
Cons
No battery inclusion
Need more durable blade replacement
4. WEN 3959

Benchtop Band Saw
Top Features
Wide range blade compatibility: The table saw can work with a 1/8 to a 3/8-inch blade with the standard length of 59-1/2 inches.
Powerful 2.5 Amp motor: Power the 9-inch wheel to rotate the saw blade up to 2500 FPM.
Optimized cutting capacity: The maximum cutting width capacity is 9 inches while the maximum cutting depth is 3-1/2 inches.
An optimized bevel cut angle: You can use the table saw for bevel cuts up to 45 degrees that work well for frame cutting.
Universal Dust Port: Connect most dust collectors to its 2.5-inch dust port and say goodbye to debris build-up.
Two-year warranty: Limited warranty from the manufacturer for two years straight.
WEN 3959 is a 9-inch benchtop band saw that offers optimum performance and capacity for its size. It's slightly bigger than a more generic 8-inch bandsaw, but it provides you with considerably more cutting capacity. With the price below $200, you'd have a reliable bandsaw that catered to most light ripping jobs.
The 9-inch table saw comes with a 2.5-Amp motor that delivers 2500 feet per minute so you can cut most wooden materials within its cutting capacity. The high FPM means the blade can cut the workpiece faster and more smoothly. Even if you're dealing with hardwoods, you can rip through them even though it might be slower to complete than cutting softwoods.
Speaking of the cutting capacity, WEN 3959 has an outstanding remark. The construction gives you a wide cutting capacity of nine inches(just like the wheel) while you can cut up 3-/12 inches deep for miter and straight rip cuts. Compared to 8-inch bandsaws, WEN 3959 has considerable enhancements in cutting capacity that you should consider.
WEN 3959 comes with complete inclusions including fence, miter gauge, onboard universal dust port, adjustable blade guards, and so forth.  Furthermore, your purchase on WEN 3959 would be backed up with a two-year warranty with WEN's service network across the country. It's overall a great hobby bandsaw to invest in.
Pros
Powerful motor for light cutting works

Large cutting capacity for its class

Wide range of blade compatibility

Complete inclusions

Great value for money
Cons
Less durable

Some issues on the flatness of the table

Not for heavy-duty works
5. POWERTEC BS900

Benchtop Bandsaw
Top Features
0.5 HP Motor: A 2.5 amp motor light-duty woodworking project.
Patented guard adjustment: the engineered blade guard enables instant, hassle-free blade changes.
Large cutting capacity: the maximum cutting width capacity is 9 inch while the cutting depth can reach up to 3-5/8 inches that enable you to resaw and cut veneer larger wood materials.
Complete inclusions: The unit comes with a 1/4-inch wide, 62-inch long bandsaw blade as well as the miter gauge.
Universal dust port: A two-inch dust port enables you to connect the bandsaw with most dust collectors available in the market and keep the benchtop clean.  
Blade tracking window: This allows you to monitor the blade position throughout the operation without opening the wheel cover.
POWERTEC BS900 is a 9-inch benchtop with robust functionality for light-duty applications. It has a functional 1/2 HP 2.5 Amp motor that's quite powerful for resawing, ripping, and cutting veneers within its depth capacity.  You can put POWERTEC BS900 in your benchtop, blot it to the ground, and you're ready to go.
Coming with a longer band saw(62 inches), POWERTEC BS900 provides you with a deeper cutting capacity. It enables you to cut lumber with a thickness of up to 3-5/8 inches while it has a standard throat of 9-inch wide. That provides you with more flexibility for workshop applications especially for cutting thicker materials. Rack and pinion allow you to make bevel cuts conveniently.
POWERTEC BS900 also comes with patented and special features that enhance your bandsaw usage in the workshop. The manufacturer has patented its engineered blade guard that enables you to change and adjust blades very easily. That also gives the bandsaw some degree of versatility with different blades that can be used interchangeably.
What's more interesting is the blade tracking windows which turns out to be a very helpful feature. It enables you to check the blade alignment with the wheel's band without necessarily opening the cover. You can even monitor the movement of the blade when it's operated. Once you find something wrong, you can simply check them further.
Pros
Cost-effective yet functional benchtop bandsaw

Deeper cutting capacity for its class

Blade tracking windows is very helpful

Longer bandsaw blade

Versatile workshop use

Best value of money
Cons
No cons considering the price except you may not use this bandsaw for heavy-duty works
6. WEN 3959T

Benchtop Band Saw
Top Features
Universal blade compatibility:  1/8 to 3/8 width with a standard length of 59-1/2 inch
High-speed motor: The blade speed can reach up to 2500 FPM thanks to its 2.5 Amp motor
Maximized cutting capacity: The maximum thickness of workpieces is 3-/12 inches while the throat can load width up to 9 inches.
Enhanced Table: The working table isn't only more spacious than any comparable products but it also supports real bevel cuts for up to 45 degrees.
Complete inclusions: Your purchase would include a miter gauge, straight rip fence, universal 2-1/2 dust port, a 1/4-inch 6 TPI blade, and WEN's 2-year official warranty.
WEN 3959T is the 2021-version of WEN 3959 that turns to bring limited advancements. They look pretty similar and have identical technical specifications. However, it's still surprising that the 3959T comes at a slightly cheaper price than the predecessor. You might have thought about a facelift, but it's not.
Therefore, we can highlight similar elements on WEN 3959T's technical specification. It still features a 2.5 Amp that delivers 2500 RPM and the same cutting capacity 9-inch width and 2-1/2 depth. Therefore we can also expect similar performance for WEN 3959T.
It's still an all-range benchtop table saw for hobby and DIY works. It does a great job in ripping lumbers, resawing woods, and cutting curves within its cutting capacity.  Cutting wooden materials, boards, and metals would be no problem with a suitable blade.
The good news is that you can have all the good things from WEN 3959 at a slightly lower price than WEN 3959T. It also features a 2-year official warranty from WEN as well that gives you fair coverage when using the table for your woodworking projects. Still, you shouldn't use this table saw in harsh job site conditions.
Pros
High-speed motor for light cutting jobs

Optimized cutting capacity

Wide range of blade compatibility

Complete inclusions

Great for hobby and DIY projects
Cons
The newer model but comes with no considerable improvements

Less precise(flatness) working table.

Need more calibrations
Final Verdict
Bandsaws available in the market are for DIY woodworking, industrial, or job site applications. When it comes to the best bandsaw under 300 for workshop use, SKIL 3386-01 is a great choice as it offers versatility, functionality, and accuracy.  The benchtop bandsaw does a great job on light duty resawing and is compact enough for smaller workshops. Your purchase is even backed with a three-year limited guarantee.
For job site applications, Bosch BSH180B is the best bandsaw under 200 that you can invest in since it offers the maximum cutting depth, ergonomic design, and reliable performance to withstand harsh job site conditions.  With cordless constructions, no more hassles in dealing with twisted and limited cords. You can extend the operation by buying more battery packages for your bandsaw.
Difference between a table saw and band saw
Despite they look different, table saw and band saw are different in many aspects. Also, there are many differences among Scroll Saw Vs Band Saw Vs Jigsaw. Woodworkers would typically purchase them both for their shop instead of choosing one of them because they do different tasks. These are some big differences between these two power tools
Blades: TS uses a circular blade, BS uses a thin band blade
Functions:  TS is typically used for crosscutting and dado cuts, BS is used for rip cuts and cutting curves
Power: TS generally use a more powerful motor than BS
Capacity: TS has limits on cutting depth, BS has limits on cutting depth and width(throat)
Cutting Slots: TS leaves wider cutting slots for up to 3.0 mm, BS leaves thinner cutting slots at up to 0.6 mm
What to looks at before buying a bandsaw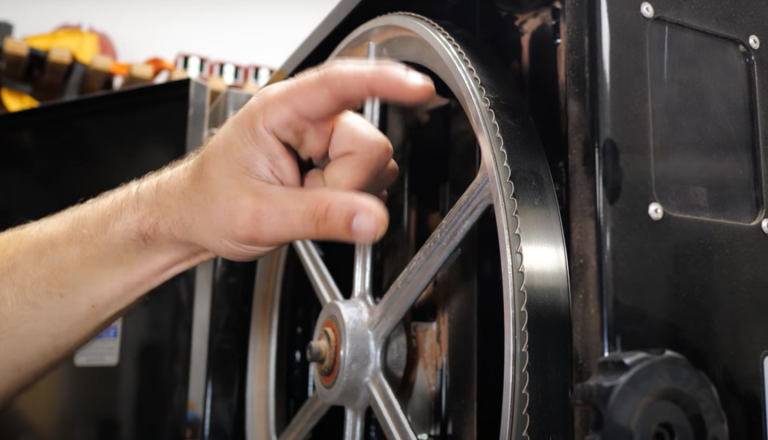 When shopping for a bandsaw, there are factors you should look at and consider so you can get the best suitable choice for your needs. These are some things to look at before buying a bandsaw:
Dust Collector
As for practical and safety reasons, it's very important to choose a bandsaw with a dust port that can connect directly to the housing dust collector in your workshop. All debris and dust from the operation can be straightforwardly collected that prevents build-up and hazardous particles harmful to your respiratory system.
Cutting Power
Depending on the applications, a bandsaw must have adequate cutting power for the jobs. Larger bandsaws consequently use larger motors to support the power for cutting larger and harder workpieces. Medium-sized band saws usually have 1 – 1.5 HP motor while industrial bandsaws may use a 3HP motor or even more.
Cutting Capacity
The cutting capacity of a bandsaw refers to the width, depth/thickness, and How Fast Does The Blade Cut? Bandsaws come with different capacities even when they feature the same size of wheels. You need to choose the one that has adequate cutting capacity for your jobs.
Blade Type
There are different types of bandsaw blades but some bandsaws enable you to use different blades interchangeably for cutting different materials. When choosing a bandsaw you need to check what blade types it's compatible with.
Regular tooth: For cutting metals and woods
Hook tooth: For cutting hardwoods and non-ferrous metal
Wavy:  For cutting thin sections of sheet stock, tubing, pipe, etc
Variable tooth: For easier wood cutting and low vibration in woodworking
Skip tooth: For cutting long workpieces with finer results.
Diamond blade: versatile blade for cutting hard materials like tiles, marbles, ceramic, porcelain, concrete, brick, metals, etc.
Depth Of The Cut
Depth of the cut refers to the maximum thickness that the bandsaw can cut through. Generally speaking, the larger bandsaw has more max cut depth. While a 9-inch bandsaw provides you with 2-1/2 inches of depth, a 14-inch can provide up to 12 – 14 inches of depth.
Size Of The Table
The table is your workspace when using a bandsaw to cut workpieces. At this point, you should check the measurements of the table whether or not it suits the requirements in your workshop. Heavy-duty bandsaw typically has a cast iron table to withstand heavier workpieces and extensive operation.
Ease Of Set-Up
Even though a bandsaw would typically stay in your shop, it's great to have one that's easy to set up. This includes how you can change the blade, set up the fence and miter gauge, set the bevel angle, adjust the blade guide, and so forth.  For job site band saw,  cordless products seem to be a legit option for now.
Versatility
The versatility of a bandsaw usually refers to how it can work with different types of blades so you can cut different materials. Each bandsaw has its range of blades they're compatible with. A versatile bandsaw would be a great support to your woodworking projects.
Bandsaw Weight
The weight of the bandsaw determines how you can transport them and how they can steadily stand on your workshop when cutting workpieces. However, lightweight does matter for mobile or job site use to reduce fatigue when you're in a prompt cutting job.
Safety Advice before Operating a Band Saw
Bandsaw operation could be very dangerous without safety measures and procedures. There are many incidents involving the unsafe use of bandsaw. Before operating your bandsaw, do these steps
Read and comprehend the user's manual

Ensure everything is clear for you including the guide and instructions

Comprehend what you can do and can't do with the bandsaw

Anchor the bandsaw to the ground or the working table(if it's a benchtop bandsaw)

Wear all necessary safety gear including safety glasses, gloves, and mask

Follow general safety precautions carefully before using your bandsaw
What type of cut can a bandsaw make?
A bandsaw can do straight cuts, angled/miter cuts, bevel cuts, and curves with the correct blade.  Technically, straight rip cuts would need wider blades while narrower blades allow you to cut curves. It's very important to use the correct blade for the cutting job with a bandsaw.
What speed should a band saw run at?
The bandsaw should run at one thousand feet per minute for safety reasons. However, the higher speeds enable you to cut wood faster and more smoothly. Commercial band saws can run from 2000-to 5000 feet per minute, depending on the motor and pulley configuration.
How much horsepower does a bandsaw need?
Bandsaws with 1 – 1.5 HP motor is ideal for general cutting jobs in a workshop including ripping softwoods or resawing thinner wood stocks. However, you'd need a bandsaw with 2- 3 HP if you want to resaw larger hardwood stocks, logs, or do veneer cuts. A bigger motor provides a bandsaw with more power to cut through the wood.
Can a bandsaw cut wood and metal?
With proper blades, bandsaws can cut wood and metal with no problems. You can use the blades interchangeably to cut different materials including metal and wood. However, there are bandsaws specifically designed to cut metal tubes, pipes, and shafts without being limited with the throat of vertical bandsaws.  
Good Bye Word
We've learned that a bandsaw can be a versatile power tool that every woodworker must have to support their cutting jobs including resawing, ripping, beveling, curve cutting, miter cutting, and so forth.  We have two kinds of band saws in this context: benchtop table saws and portable saws. Bandsaws can cut different materials with proper blades but specialty bandsaws offer more reliable performance on specific tasks. In the end, you should refer back to your requirements when shopping for a bandsaw. 
Hi their! I am working with daily instruments since 2018. I complete my M.SC in Mechanical Engineering. I accomplished with commencement in 2009 from the College of Colorado Denver. Now I am working for a widely known tools firm. Sometimes i write informative article on my blog weeklytools.com & dailytools.com