A circular saw is one of the most important tools in a carpenter's cabinet. In this modern age, being a skilled carpenter is not enough. Having tools that help you work with speed and efficiency gives you an edge over your rivals. In this regard, a cordless worm drive saw is probably the handiest tool any carpenter can use.
There are countless saws available online. So, which one to buy? This article will explore some of the popular products to find out the best cordless worm drive circular saw of 2022.
Types of Circular Saw
Depending on the type of work, many types of circular saws are available in the market. Some of those are:
Worm Drive Saw
Sidewinder Saw
Hypoid Saw
There are many other types of circular saws that are used for different purposes. Also, these saws can be either corded or battery-powered (cordless). This article will mainly shed light on cordless worm drive saws.
What Is A Worm Drive Circular Saw?
A worm drive circular saw refers to the kind of saw with the motor placed at the rear end of the blade. This type of saw is typically long and facilitates better reach while cutting wood. Worm drive saws run at a slower speed but produce impressive torque.
The blade on a worm drive saw is generally on the left side. Thus, it offers a better sightline and makes it easier for the user to make precise cuts.
How Do Cordless Circular Saws Work?
A circular saw does the work of a circular saw. Whether it is corded or cordless does not impact its performance and functionality. A corded circular saw needs to be plugged into an electrical outlet for the entire usage time.
However, a cordless circular saw derives its power from a battery. Therefore, it does not need electrical power to run, which gives the device much more portability than a corded circular saw. There is no difference in terms of functionality between the two variants of circular saws.
Who Can Benefit from a Worm Drive Saw?
Whether you are a beginner or a master craftsman, worm drive saws are the best saw type for you. A long-distance between the blade and the handle provides you with better reach while cutting, especially when cross-cutting sheet goods.
A popular complaint regarding the worm drive saw is that it is slower than other types of circular saws. However, the slow speed makes it easier for beginners to use this saw and make precise cuts. This tool produces a very generous amount of torque, making the product very durable. The blades' bigger teeth help the carpenter cut through wood as if it is butter.
The only real downside of a worm gear saw is its enormous weight. If this one factor can be overlooked, worm drive saws can be used by anybody for their desired woodwork.
Difference between Worm Drive vs. Direct Drive Circular Saws
A few critical factors set apart a direct-drive circular saw (otherwise known as a sidewinder saw). One of the noticeable factors is the placement of the motor. In a direct-drive circular saw, the motor is placed at the side of the circular blade.
It makes it a wide but short piece of equipment. This wide design makes it unusable in tight spaces. However, as the tool is short, it is easier to use, especially for beginners.
On the other hand, the worm drive saw has its motor mounted at the rear end of the blade. It makes the machine slim and ideal for making cuts in tight spaces. The distance between the blade and motor makes it easier for the user to reach quite far while making cuts. However, it does not provide as much control as direct drive saws.
Another distinguishing factor is the weight and price of these two cutting tools. An average worm drive saw weighs around 13-14lbs, and it retails for $150 – $200. In contrast, a direct drive saw weighs 10lbs at maximum and retails for $125-$150, making it a cheaper option.
Top 5 cordless worm drive circular saws review
There are countless cordless worm drive saws available on the internet. Having so many options can leave a person spellbound and overwhelmed to find the best cordless worm drive saw. After browsing through hundreds we have made a list consisting of only the best ones for you.
1. SKIL 48V 7-1/4″
This rear-handled product from SKILSAW gives you ease and flexibility in working. As the product is cordless, it can be used almost anywhere. The battery life of the TRUEHVT battery is quite impressive as well. The anti-wobble technology compensates for the vibration, making it an ideal tool for achieving precision in cutting.
Pros
TRUEHVL Lithium-ion batteries
450 cuts per charge
Full charge in 1 hour
Magnesium construction ensures durability
Brushless motor and electric brake
Cons
Heavier than a typical worm drive saw
2. DEWALT FLEXVOLT 60V MAX Circular Saw
Arguably the best worm drive circular saw available on amazon. This Dewalt rear handle circular saw is an excellent addition to any carpenter's tool kit. The sleek design allows the user to work in congested areas.
This battery worm drive saw comes in black and yellow color. On top of that, this product comes with a 90-day money-back, 1-year free service, and 3-years limited warranty.
Pros
Made out of stainless steel
Lithium-ion Battery
Adjustable Bavel movement with stops at 22.5, 45, and 53 degrees.
Integrated Dust Blower
Rafter hook for hanging
5800 RPM motor
3. DEWALT DCS391B
This product is perfect for people looking for a cordless rear handle circular saw for small wooden work. This circular worm drive saw has 24 teeth in its blade, making it cut through wood like butter. As it is only 20V, it is quite energy-efficient.
It is incredibly lightweight, making it a perfect fit for working long hours. If you are looking for a lightweight cordless worm drive saw for small but repetitive work, DEWALT DCS391B is the ideal equipment for you.
Pros
It comes with almost all the features of other Dewalt products
Runs on a lithium-ion battery
Great battery life
Extremely lightweight
Energy efficient
Cheaper than most other worm drive saws
Cons
Extremely short blade length
Unusable for big projects
4. MOTORHEAD 20V ULTRA
It's a premium product that retails at a higher than usual rate. The brand MOTORHEAD has put a lot of thought into making the product.
The plethora of features will make you want to have this piece of equipment at your workshop. If budget is not an issue for you, do not look any further because this is the ultimate circular saw to meet all your demand.
Pros
Laser cutting guide for making precise straight cuts
Luminox LED light for cutting in dark sites
Metal blade guard which ensures utmost safety
Freely adjustable bevel up to 50 degrees
Dust management port that keeps the workshop clean
6 inches blade that allows deep cuts
2Ah Battery with a fuel indicator gauge
Quick charging adaptor
Cons
Slower than other cordless circular saws
Very Expensive
5. Greenworks 24V 7-1/4″ Circular Saw
We have stored the very best cordless saw for the very end. When cutting hard and deep materials is your priority, Greenworks 24V 7-1/4″ Circular Saw is the best cordless one available on amazon.
Pros
25 inches blade length
Freely adjustable bevel up to 50 degrees
Built-in LED light
Electric brake and an additional safety switch for added safety
3-year tool warranty & 2-year limited battery warranty
Comparison Table: Skil Vs. Dewalt Flexvolt Vs. Dewalt DCS391B
Voltage
48 Volts
20 Volts
60 Volts
Speed
5800 RPM
5800 RPM
5250 RPM
Factors to Look for While Buying a Battery Powered Worm Drive Saw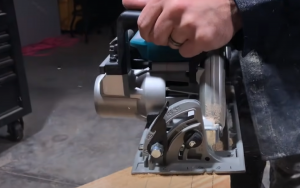 Several things need to be considered while deciding which worm drive saw fits your requirements. While every product in the market comes with its advantages and disadvantages, some components in a good worm drive saw make the product worth buying.
Here are some standard variables that you should thoroughly check before selecting a circular saw.
Performance
You always need to educate yourself about the performance of the equipment you are planning to buy. One of the key indicators of performance is motor speed. If you buy a circular saw to use in big and heavy projects, you should look for saws that offer good motor speed. Having a circular saw with good motor speed allows you to make aggressive and swift cuts.
As the article explores cordless worm drive saws, it will be a good idea to check the battery life of your desired equipment. Cordless saws allow much portability, but working with a cordless circular saw can be a nightmare without good battery support. Hence, getting proper knowledge about the battery life of the worm drive saw you are planning to buy vital.
Handle
The handle's position in a worm drive saw determines the control of the saw. It is essential to see if the handle's position is comfortable. Many big companies design their product's handle to stay in the most natural position so that the user's hand stays.
Therefore, buying your circular saw from a reputable brand can almost guarantee you that you will have no complaints regarding the handle of your saw. Nevertheless, you should check the handle position of your desired circular saw before buying.
Usually, the saws with the handle positioned at the rear end of the equipment provide more control. The good news is that most worm drive saws have their handle placed at the rear end.
Weight
Weight is another key factor to look into. Heavy saws are not ideal for working prolonged hours. On the other hand, lightweight saws typically cause more vibration, leading to less accuracy. Hence, it is crucial to know the weight of the equipment.
The key thing to remember is that the machine must not be too heavy, as heavy circular saws require more physical strength to operate, leading to fatigue.
Hence, one should look for lightweight saws. As far as the vibration issue is concerned, most modern worm drive saws come with anti-wobble technology, which reduces the vibration. So, buying a lightweight worm drive saw will not pose any additional difficulty.
Blade Size
The blade size is one of the essential parts of a worm drive saw. Depending on the type of work, you will have to choose which blade size works the best for you. On average, most worm drive saws come with a 4 inches blade ideal for small to medium-sized projects.
However, you might require a blade as big as 7 inches for big and heavy projects. On the other hand, if you plan to do any small projects, a 2-inch blade size might be the best option. So, think well before you go and buy a worm drive saw.
Dust Collection Port
The dust collection port is often an overlooked component of a circular saw. Nevertheless, we strongly advise you to look at whether a circular saw has a dust collection port or not.
The dust collection port collects most of the sawdust, making it easier for the user to breathe. Also, a dust collection port keeps the work site clean, allowing the user to have a clear sightline.
Safety Features
Circular saws can be a piece of deadly equipment if not handled with caution. Hence, it is vital to check what safety features are available on the cordless worm drive saw that you are planning to buy. Most modern worm drive saws come equipped with an electric brake which stops the blade as soon as the trigger is released.
A few companies offer a metal blade guard, an additional switch that works as an additional brake for the blade. Look out for these features while buying worm drive circular saws.
Frequently Asked Questions (FAQs)
1. Do worm drive saws need oil?
Yes, Worm drive saws need oil to run.
2. How long does a cordless circular saw last?
How long a cordless circular saw will last depends on the user and the brand of the product. If you buy a cordless circular saw from a reputed brand and use it with care, it should last at least 10 years.
3. Are Cordless Circular Saws Worth It?
Cordless circular saws offer all the functionality and greater portability than corded circular saws. Hence, it is worth buying.
4. Are Battery-Powered Circular Saws Any Good?
Battery-powered circular saws like the Makita worm drive circular saw are excellent and efficient circular saws.
Final Thoughts
Carpentry is a very tedious job. A bit of flexibility in these types of work can provide a lot of comfort to the carpenter. This is why cordless circular saws are in demand now. The best circular saw is worm drive saws.
All of the saws on the list have their pros and cons. However, the best cordless worm drive circular saw, in our opinion, is DEWALT FLEXVOLT 60V MAX Circular Saw because of its performance, durability, weight, and battery health.