qHaving great hand saws for cutting trees helps you trim and prune smarter and cut ten times as good as you used to.
Hand Saws are lightweight, easy to use, and a durable must-have tool for any gardener, nature enthusiast, home or contractor. Compared to a chainsaw, hand saws are also less expensive, more portable and versatile, and easier to maintain the cutting tool.
In this article, various hand saws are reviewed to pick the best hand saws for cutting trees, the best hand saw to cut branches, and the best hand saw for cutting logs.
To equip you with adequate information when buying a hand saw, a buying guide with key specifications and frequently asked hand saw questions are treated.
How to Cut Logs with a Hand Saw
Depending on the size of your log or branches, cut logs 8 to 12 inches long. While cutting, try to keep the blade vertical (perpendicular to the log). Push down and forward at a 30 to 45-degree angle without applying too much downward pressure.
You don't need to use much force if the blade is sharp. Because the blade of a hand saw twists easily, you can get off track while cutting and end up with an extended crooked cut through a log.
While cutting, try to use as much of the blade's length as possible without bending your arm too much. If you need to maintain the sharpness of the saw, a file or small diameter mounted stones can be fitted into a Dremel tool for sharpening.
Safety for Cutting Logs
Maintaining safety is non-negotiable when using a handsaw to cut logs. This is because the weight of the logs is much greater than it appears. During tree cutting, logs often bounce off other branches on their way down, causing them to land far from where they had been cut.
If these branches fall on anyone, the force of their momentum can be fatal. The following safety measures can reduce the risks of accidents during tree cutting.
It is important to safely begin tree cutting by surveying the area for potential hazards and cautiously eliminating such hazards. Hazards could be hanging branches, limbed vines or a wrongly placed ladder or equipment.
Safety features like a non-slip grip, safety glasses, hand gloves, and hearing protection are protective tools that remove the possibility of the hand saw slipping away while in use and injuring someone.
If possible, get a weather foresight from weather apps, and avoid log cutting during hailstorms and thunderstorms. A knuckle or hand-guard at the handle of a handsaw is excellent for added safety.
When not being used, blades should be stored in a secure sheath as a protective covering.  These safety measures help reduce the risk of minor cuts while transporting the tool. In situations where you have to climb a tree, test the stability and strength of tree limbs, and never turn your back on any falling branches, limbs, or trees.
Know the location of everyone in the surrounding area. And prepare a route to a safe site in the event of an emergency.
Put succinctly: The principal safety measure for cutting logs is to get trained in the proper use of the best hand saw for cutting trees and always be alert.
Which is the Best Hand Saw for Cutting Logs?
1. HOME PLANET GEAR 8" Folding Multi-Purpose Hand Saw
The Home Planet Gear is a multi-purpose ever saw, and foldable saw with a tough pull cut. The medium-tooth, adjustable 8-inch blade made of "Carbon Steel Blade SK5" easily cuts wood, bone, and plastic up to 4 inches thick in diameter. Home Planet Gear has made log cutting never be a problem again with its super sharp, Japanese-style pull cut design embodied in its Triple- cut razor teeth.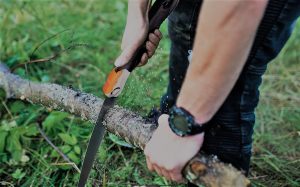 Home Planet Gear has a reputation for high-quality materials and repeats history with an ever saw that does not bend or break. The blade of the folding camp saw fits entirely into the handle, so no teeth are exposed when closed – making you feel extra safe carrying it.
With an extended full length of 17″ and a closed length of 912″, the hand saw is portable for easy transport. The ergonomic, thermoplastic ribbed rubber prevents slippage.
There's no argument; Home Planet Gear did due diligence in constructing this versatile, high-performance, durable, and premium handsaw. It's perfect for backpacking saws, hunting gear saws, camping saw folding as well as branch cutters, limb saws, snow saws, winter pruning saws, and pruning saws for tree trimming. They're ideal camping gear dad gifts for men and women, as they've come in portable toolboxes.
Key Features
Brand: Home Planet Gear
Item Dimensions (LxWxH): 9.5 x 2.25 x 0.75 inches
Blade Length: 8 Inches
Item Weight: 10 Ounces
Pros
It is powerful with its 17" opening and 8" blade.
It is portable with a 9½" closed length that makes for easy carry.
The carbon-steel, triple-cut razor teeth reduces friction for smooth, clean, and quick cuts.
Comes with easy, secure storage for durability and to prevent accidents.
It has a ribbed rubber handle that prevents slippage.
It has a versatile use.
Cons
It is incredibly sharp and can cause grave fatality in the event of an accident.
Its ruggedness is prone to cause bruises and minor injuries.
2. COHER 8" Folding Hand Saw
If you enjoy camping or hiking, gardening, are a nature lover, a seasoned hunter, or want the best handsaw for cutting logs, Coher has the perfect folding saw for you.
This pruning saw has an ergonomic non-slip handle supported by a leather strap, which provides stability and improves maneuverability. Made of premium quality, highly durable 65mn steel and TPR material, this item is guaranteed not to rust.
Like the Fiskars 7 Inch Folding Saw, its cutting wood and bone, PVC, and ergonomic handle design make it a solid and functional tool for camping, gardening, tree pruning, and hunting. If you are looking for a reputable hand saw that doesn't compromise quality and durability, Coher 8" Folding Hand Saw is the right fit.
Key Features
Brand: Coher
Blade Length: 8 Inches
Item Dimensions (LxWxH): 7.5 x 2.1 x 0.9 inches
Total Length: 17.3"
Blade Thickness: 0.05"
Handle Length: 9.5"
Blade Length: 7.9"
TPI: 7 TPI
Sawing Angle: Two-Angle
Sawtooth Thickness: 0.07";
Pros
Its primary cutting occurs on the pull stroke, giving you much control over the saw.
It has a convenient size and weight that aid easy carriage.
It is a unique gift idea for an adventure enthusiast.
Comes with easy, secure storage for durability and to prevent accidents.
Its ergonomic, non-slip thermoplastic rubber handle prevents slippage.
It comes in convenient dimensions and a modern shape.
It is excellent for pruning.
Cons
It is small, making it less handy for huge logs and large sawing operations.
It is not versatile in use.
3. BAHCO 10-30-23 30-Inch Ergo Bow Saw for Green Wood
The Bahco Ergo 30" saw is designed for rugged environments and demanding applications on construction sites and farms. It is ideal for homeowners and campers as its ergonomic handle with a knuckle protector provides comfort and safety for users.
The bow saw frames are light in weight but strong, with precise tensioning and quick release changes. The blade strength and hardpoint peg tooth of this hand saw allow it to cut through mature and dry wood, as well as live and greenwood.
Key Features
Brand: Bahco
Item Dimensions (LxWxH): 1.18 x 34.84 x 10.24 inches
Power Source: Manual
Colour: Orange
Length: 30"
Item Weight: 0.08 Kilograms
Pros
It is designed to sever both dry wood and greenwood.
It is designed for demanding applications and harsh construction site environments.
The high blade tension and straight cutting make for a smooth, quick and clean cut.
It is lightweight and made of high-quality steel tubing.
It is long-lasting durable and very handy.
Cons
It is relatively expensive.
It comes in the color orange only.
It sources its power manually.
It can be strenuous when used continuously.
4. CORONA 18" RS 7510D Razor Tooth Heavy Duty Saw
Who knows? The Corona Razor tooth hand saw in all its manual gloriousness may be able to slash through the corona pandemic and save humankind through its heavy-duty functionality. The 18″ blade is ideal for cutting branches with diameters of 9-10″.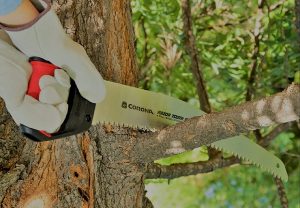 Each tooth is triple-ground, resulting in multi-faceted angles that maximize cut efficiency and wood removal. The high carbon Japanese SK5 steel blade material has exceptional hardness and durability, making the Corona withstand heat and hardness season after season.
Key Features
Brand: Corona
Blade Length: 18 Inches
Item model number: RS 7510D
Power Source: Manual
Item Dimensions (LxWxH): 1 x 5 x 23.25 inches
Item Weight: 1.1 Pounds
Pros
It is a solid and functional hand saw.
It has an easy-to-use size.
It is sharp enough to cut your breath off.
Comes with a comfortable plastic handle.
Cons
Its heavy-duty capability makes continuous use laborious.
It is relatively expensive
It is manual in its use.
It doesn't have replaceable blades
5. WiILFIKS 16" Pro Hand Saw
WiILFIKS 16" Pro Hand Saw is a distinct hand saw that comes with razor-sharp blades with a heavy-duty and highly productive sawing capability.
The lengthy, extremely sharp blades cut through materials of varying sizes within a matter of seconds with maximum precision and flexibility. The durable hand saw has a high carbon steel blade at 9TPI.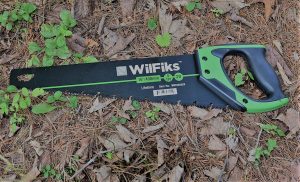 This high TPI allows for excellent rigidity, control, and lasting performance. With its cutting surfaces – three in number – Wilfiks has made the job of the  16″ Pro Hand saw go faster. And work efficiently.
Of all the reviewed products, The WiILFIKS 16" Pro Hand Saw is the best hand saw for cutting trees. It is perfect for trimming, sewing, gardening, pruning & cutting wood, plastic pipes, thick trees, drywall and more.
With a 50x efficiency faster than the regular hand saw, it can shear the thickest trees into pieces. It has Deep Gullets for quick wood chip removal.
It can work with a variety of materials, including plywood, miters, wallboard, tenons, wood, and plastic. The Wilks 16" Pro Hand Saw is the overall best-buy for best hand saws for cutting logs and trees.
Key Features
Manufacturer: WilFiks
Package Dimensions: 18.9 x 5 x 1.25 inches
Item Weight: 13.6 ounces
Type: Hand saw and torpedo level
50x faster than standard hand saws
Pros
It has a 5x longer base tooth than standard hand saws allowing for sharper, more efficient cutting performance.
Its 16-inch carbon steel blade with 9TPU makes for maximum cutting flexibility.
Its handle characteristics make it ideal for angle cuts.
It has an anti-glide and tight grip handle design
It cuts through the thickest trees and logs in a matter of seconds.
Thin, tiny, but razor-sharp blades make for maximum cutting precision
Cons
It doesn't work for the gradual cutting of stump roots.
It cannot be used for raggedly or fundamental smooth cut and edges.
It's small and thin for cutting large trees.
When used in heavy-duty and jagged cuttings, it will wilt and break.
Buying Guide
Understanding key features to search for in tools is the ultimate to buying a functional tool. The same applies to buying the best hand saw to cut branches. While there are different handsaws for varying purposes, a buying guide like this helps you figure what handsaw will produce a particular finish-cut result. Key features to search for when buying a hand saw include blade length, blade material, handlebar design, blade change efficiency, and many more. Other key features are:
The Construction of the Hand-Saw
Knowing the construction of a wide range of hand tools like hand saws is very important in choosing the right pick. Before buying a handsaw, it is essential to ask, 'What materials were used in the building process of the hand saw? This is because the saw's performance is affected by the blade quality and material. For durability and ease of use, the best bow saw for cutting logs will be made from durable materials, usually hardened steel. The grip also plays an important role. Large saws typically have thoroughly-made, convenient handles that improve balance and make continuous use feel less stressful.
Hard-point or a Resharpened point?
Hardpoint saws have teeth that have been built and hardened to keep them sharper for a more extended period. However, because of this hardening, once the teeth become blunt, the saw cannot be resharpened and loses its purpose. On the other hand, resharpened saws are often more expensive than disposable hardpoint saws but will last a lifetime.
Know the Numbers
There are different types of handsaws with varying purposes, sizes, number of teeth and styles. The choice of a handsaw to buy is determined by the kinds of material or log you want to cut, the finish you intend to achieve, and the hand saw best suited for that purpose.
Teeth Number (PPI or TPI)
Knowing the teeth number is crucial to buying the right-hand saw and having the right cut and finish. More teeth produce a neater, spot-on cut. Lesser teeth allow for faster cutting but less neat and precise cutting.
For finer, more intricate cuts, you'll need a different hand saw than you would for rough cuts in wood.  PPI (Points per Inch) or TPI (Teeth per Inch) is used to measure a hand saw's teeth number. The higher the PPI/TPI, the additional teeth, and thus a cleaner result.
For example, saws with many teeth per inch are prone to clogging when cutting softwood due to a large amount of waste produced.
So, for softwood, choose a saw with fewer teeth per inch, such as 4 to 6 teeth per inch for a ripping saw or 10 to 14 teeth per inch for a crosscutting saw. Because hardwoods generate finer wood waste during cutting, use saws with a higher number of teeth per inch, such as 8 to 12.
The Length
Hand saws come in a variety of lengths and sizes. They range from 6" to 12" and 22" to 24" plus more. Long saws are usually intended for longer strokes, while short saws are intended for short strokes.
Longhand saws necessitate using your entire arm's range of motion, whereas shorter saws necessitate shorter arm movements. A longer saw will have more teeth, but not necessarily more TPI than a faster saw.
Is it a Crosscut or a Rip?
When looking to purchase the best hand saw for cutting logs, it is critical to consider the cutting that will be performed. Crosscutting, which is done across the end grain, have different requirements than rip cutting, which is done along the grain. The number of teeth per inch and the shape of the teeth significantly impact how well the saw performs at either task.
Frequently Asked Questions
How can you sharpen a Hand Saw?
Hand saws can be sharpened with a vice and a metal file, particularly if it has a resharpenable point. Sharpening can be highly time-consuming when considering the cost of the replacement. Hence, because of the low cost of replacement, hand saws are frequently replaced when the blade becomes blunt and can no longer perform cuts efficiently.
How do I care for my Hand Saw?
Keep your hand saw dry in a sheltered, moisture-free place when it's idle to prevent it from rusting. Avoid cutting into metal or nails as this will quickly blunt the blade and render it ineffective. It is essential to care for your hand saw and other tools by keeping a hold of the cardboard/plastic sheath your hand saw is supplied and placing it over the blade when you are not using the saw. This prevents moisture and damage to other tools in your tools box. Also, ensure to use the saw for its designed purpose.
Which Hand Saw Cuts Woods Best?
The best handsaw for cutting logs is determined by the kind of finish-cut you are looking to achieve. However, the WiILFIKS 16" Pro Hand saw is the overall best-buy. The premium-quality saw has 5x longer base teeth than standard hand saws allowing for sharper, more efficient cutting performance. In a matter of seconds, its 16-inch carbon steel blade with 9TPU allows for maximum cutting flexibility and precision.
What are the different types of Hand Saws?
The various types of hand saws include but are not limited to: pruning saw, coping saw, tenon saw, regular universal hand saw, bow saw, plasterboard saws, and hacksaws. Coping saws are ideal for cutting hard and softwood, plastic, ceramic, and nonferrous metals.
Tenon saws are used to make straight and precise smaller cuts in hard and softwood. Pruning saws are typically used in the garden to make rough cuts in tree branches and other shrubs. Regular Universal handsaws can be used on a professional job site as well as around the house.
What makes a good Hand Saw?
Features like the durability of construction material – particularly hard-steeled – the number of teeth, blade quality, resharpening ability, and finish cut of the handsaw make for an excellent hand saw.
How do I use a Hand Saw?
Hold the saw with your thumb and index finger pointing along the blade. A scored line will be more accurate than a line drawn with a pen or pencil. When cutting, make use of the entire length of the blade to allow the saw to cut more efficiently.
When pushing or pulling the saw, only use force on the cutting stroke. Long, steady strokes cut wood much faster than short, quick ones. With a lighter return stroke, the saw will be able to clear some of the waste from its teeth. Set yourself up so that your line of sight runs along the back of the blade.
What are the benefits of pruning with a Hand Saw?
Pruning with a Hand Saw controls the tree form, thereby rejuvenating the tree to produce more and better fruit. By pruning dead branches, limbs, and wild logs, branches that endanger your property or interface with overhead wires or nearby structures are prevented.
Ultimately, pruning ensures good growth when transplanting or planting a new tree leading to a healthy and good-looking tree.
What do you prune with a Hand saw?
You prune, trim or cut dead or dying branches, branch stubs, branches growing too close together, rubbing branches, weak crutches, dangerous branches, and remove suckers and water sprouts with a hand saw.
Conclusion
A hand saw is an essential tool in everyone's toolbox. Asides from a high-quality blade and well-balanced design, the number of teeth on a hand saw is one of the defining factors in a clean log cut. More teeth equate to a cleaner, more precise cut. Fewer teeth allow for faster cutting but less neat and accurate cutting. The WilFik 16″ Pro Hand Saw is our overall best buy for best hand saws for cutting logs. It has a well-balanced design and a high-quality blade that cuts 50x faster than standard hand saws.
Hi their! I am working with daily instruments since 2018. I complete my M.SC in Mechanical Engineering. I accomplished with commencement in 2009 from the College of Colorado Denver. Now I am working for a widely known tools firm. Sometimes i write informative article on my blog weeklytools.com & dailytools.com